Speckled Egg Brownies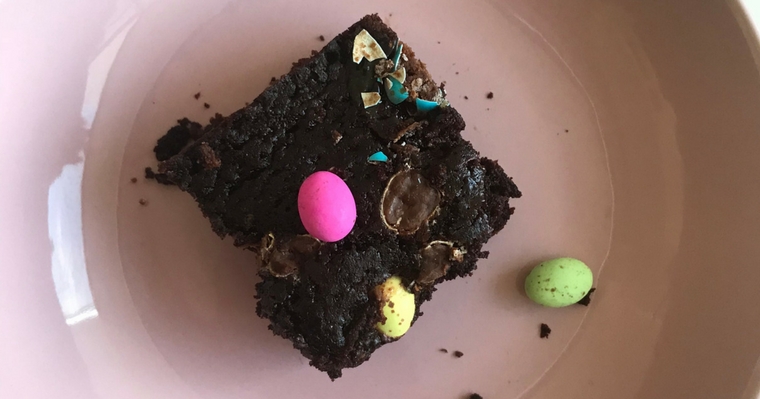 These are an adaptation of my Oreo Brownie recipe, inspired by Easter. My original plan was to buy marshmallow eggs and pour half the batter into a baking dish, layer with some Beacon Easter Mallows and pour the rest of the mixture over. Just think of that as a second option to try instead of these. This is also a great way to use up any leftover chocolate Easter treats (bantam eggs, bunnies etc) The recipe itself is an easy wet and dry mixture and will satisfy any chocolate craving.
Ingredients:
1 cup flour
1/4 cup sugar
3/4 cup xylitol (or 1 cup of regular sugar in total see tips below)
1/2 tsp salt
1/2 tsp bicarbonate of soda
1/3 cup cocoa
1/2 cup oil
1/2 cup boiling water
1 egg
speckled eggs (125g packet)
Method:
Pre-heat your oven to 180CºC
In a large mixing bowl combine the flour, salt, sugar, bicarb and mix with a whisk.
In a separate bowl, mix the cocoa with the boiling water, add the oil and whisk well. Wait for it to cool down and then add the egg. Whisk until well combined.
Make a well in the centre of the flour and pour the chocolatey mixture in. Mix until everything is combined and you cannot see any flour bits. Make sure to scrape the sides and bottom of the bowl – leave no flour behind!
Empty into a greased 23x23cm baking dish or brownie tin.
I chopped a few speckled eggs and sprinkled on the top, then marbled it into the batter. Place a few more whole speckled eggs on top and put into the oven.
After 10-15 minutes the middle should still be wobbly, add some more speckled eggs to the top.
Place back in the oven for a further 10 minutes until the middle has juuuust set (take it out when its still a bit wobbly for a dense centre.
Allow to cool or serve warm with ice cream!
Tips:
If you would like to lessen the sugar use from 1/4 cup of sugar (or substitute) up. In other words you don't have to use the full sugar amount. There are a lot of speckled eggs in this thus it is quite sweet.
I used 1 tsp of bicarb by mistake – which means my brownies rose too much and I had to add a lot more speckled eggs. They are also extremely light and fluffy and more cake than brownie like. I also had to bake it for longer. 1/2 tsp should mean a more dense brownie. Also your speckled eggs won't get swallowed up by rising cake. Either way it came out delicious.
As a second option, try the mallow Easter eggs – what a great way of using up leftover easter chocolate. If you prefer a saucier pudding, don't cool for the full cooking time. the middle should still be wobbly. Serve immediately with ice cream.
Step-By-Step
Grease a 23x23cm baking dish, add all dry ingredients into a bowl except for the cocoa.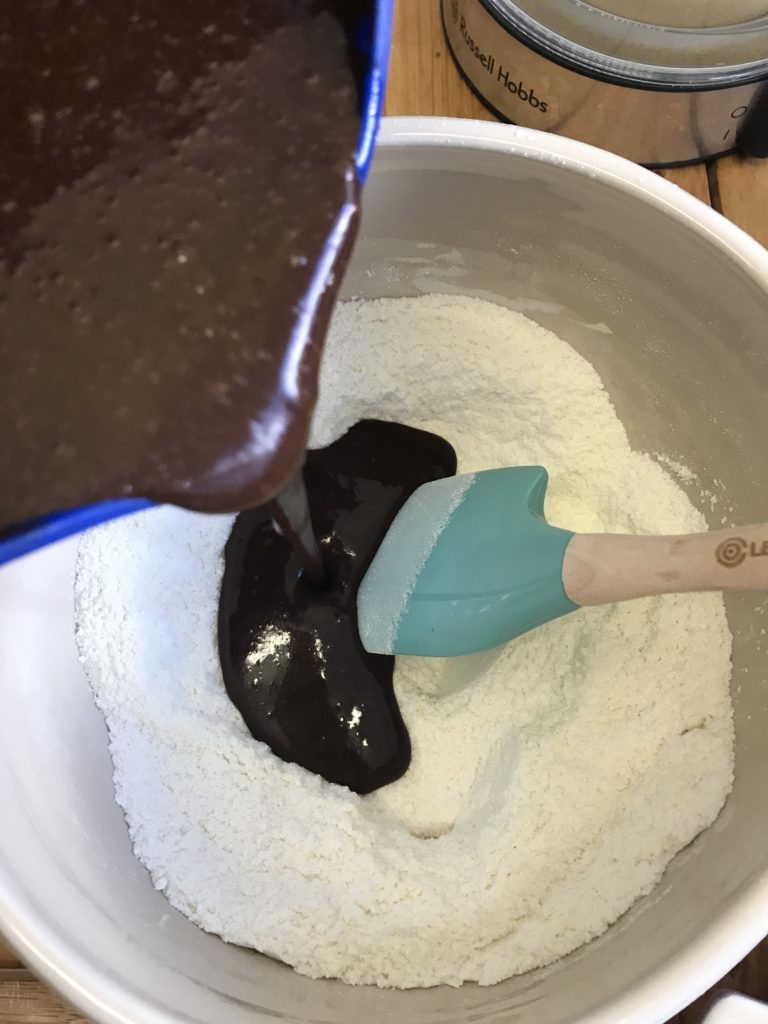 Mix the cocoa, water, oil and egg together. Mix well with a whisk to get rid of any lumps.
Add the cocoa mixture to the dry ingredients and mix well.
Top with speckled eggs and bake at 180ºC for 20 minutes.
What are your favourite easter treats? Let me know in the comments section!
---
---