Stuffed Peppers with Chunky Tomato Sauce and Broccoli Brown Rice
If you read my Weekly Grocery Haul over here, you would have seen that I scored a bag of mixed peppers for R19.99 from Fruit & Veg. I usually just wash, cut and freeze them but this time I decided to stuff the peppers and actually eat them whole. Peppers have just over 2g of carbs so this dish is perfect if you are Banting or paleo. Just omit the brown rice and make pure broccoli rice instead. The tomato sauce is packed with flavor and is delicious smothered over the peppers and rice.
Stuffed Peppers
Ingredients:
250g of ostrich mince
4 peppers halved and seeds scooped out
1/2 onion
1 tsp cumin seeds
1 small stick cinnamon
1 clove garlic
salt to taste
2 Tb oil
For the Tomato Sauce:
half a tin tomato and onion mix
1 tomato, chopped
1/2 tsp chilli flakes
1/2 tsp dried oregano or fresh if you have
1 tsp salt
water
coriander for garnishing
Method:
To make the mince, add 1 Tb oil to a frying pan and put cumin seeds and cinnamon stick in when the oil is hot. Add chopped onion and sauté but do not brown. Add garlic, fry for a few seconds and then add the ostrich mince.
While the mince is cooking, break it up into smaller pieces. Add salt to taste.
Fill each pepper with the cooked ostrich mince and keep aside.
To make the tomato sauce, use the same frying pan you used to cook the mince. Add all ingredients – the tinned tomato mix, chopped tomato, chili flakes, dried oregano and salt. Add a little bit of water and cook on medium heat until the fresh tomato has cooked down and becomes soft.
Pour the tomato sauce into a roasting dish. Then place filled peppers into the dish. Cover with foil and cook in the oven at 180 degrees celsius  for 30-45 minutes depending on the size of your peppers.
Garnish with chopped coriander.
To make the broccoli and brown rice, blitz half a head of broccoli in a food processor until it resembles crumbs (the same way you would make cauliflower rice). Mix the raw broccoli rice with warm brown rice that has just been boiled. Add chopped coriander and serve with the peppers and tomato sauce.
Tips:
If you are paleo or Banting, omit the brown rice and use a whole head of broccoli to make broccoli rice instead. Cook in a pan with a little bit of coconut oil for a 3-4 minutes.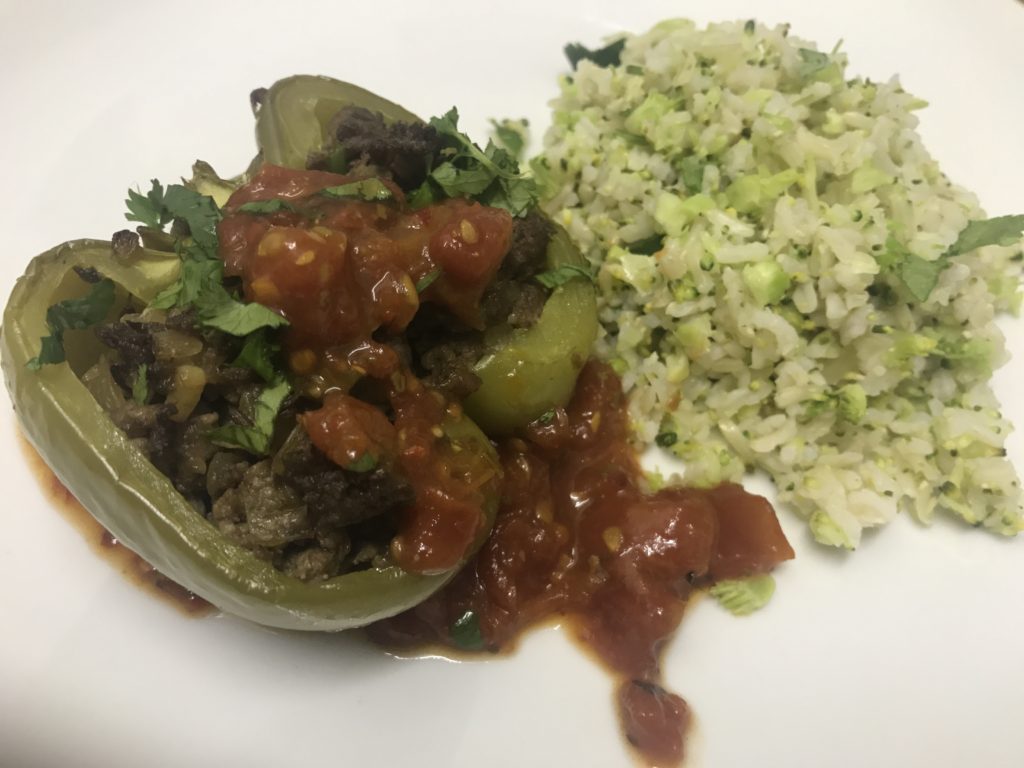 ---
---