Vanilla Sponge Cake With Passion Fruit Curd
Nina had given me fresh gradadilla's from her garden and I was planning on making a bath of Drizzle & Dips Passion Fruit Curd.  So when my cousin invited me over for dinner I wanted to take something sweet for tea and this combination was an obvious choice. The sponge cake recipe is a Nigella Lawson classic – I use it for everything (cupcakes, lamingtons, square cakes, round cakes). It's one of those recipes you keep in your back pocket because it's so quick and easy to make but looks like you put a lot of effort into it.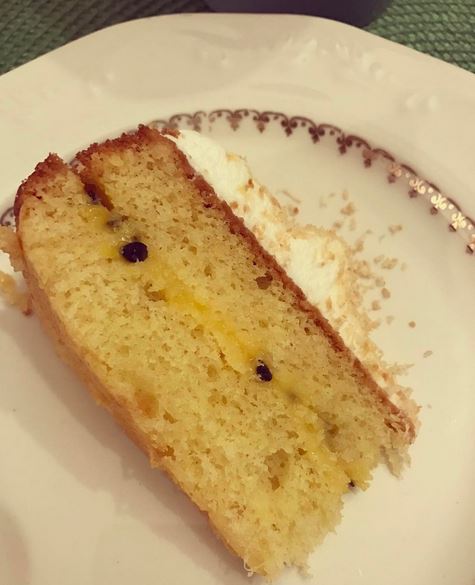 Ingredients for Sponge Cake:
For the Cake
125g Self-Raising flour (or regular flour + 10ml Baking Powder)
125g butter
125g castor sugar
2 eggs
2 Tb Milk
Method:
In a food processor, combine the flour, butter, castor sugar together. Add the eggs and mix, then pulse the milk after each Tablespoon.
Pour the batter into a prepared tin (greaseproof paper and spray and cooked) and bake for 15-20 minutes at 180◦C.
Insert a toothpick or knife into the cake after the cooking time is up, if the knife comes out clean or the sponge springs back after touched, it's done.
Allow to cool on a rack and then slice round into two pieces.
Spread one round with cooled curd mixture and place second round over the top. Dust with icing sugar and spread sweetened whipped cream over the top and sprinkle with toasted coconut.
A nice idea would be to make these into individual cupcakes. This recipe will make 12 cupcakes exactly.
Passion Fruit Curd from Drizzle & Dip by Sam Linsell:
Ingredients:
6 large eggs (free range or organic only)
120g butter
1 cup of sugar
1 cup of passion fruit pulp (strained or whole)
Method:
Heat the juice, butter and sugar in a heavy based pot until the sugar has dissolved and it reaches boiling point.
Remove from the heat and allow it to cool slightly (about 3 minutes).
Beat the eggs until fluffy in a bowl and then very quickly, whisking all the time add them to the hot juice. You do not want the eggs to curdle.
Place this all back on the heat and whisk constantly until the mixture becomes thick. I allowed it to cool in the pot which further thickens it and then empty into a sterilised jar and store in the fridge.
---
---