Warm Pasta Salad
This dish was inspired by a salad I ate at my friend Mariette's house. It was so amazing, I was obsessed with the flavours and wanted to re-create it so I could eat it over and over again. Her salad had Swiss chard, courgette ribbons, asparagus, avocado and feta all drenched in this delicious honey, mustard and lemon dressing. Since I needed the husbo to eat it as a meal, I thought some pasta and chicken would be a nice addition. This salad is great as it's more of an assembly job than actually cooking…I didn't have all the ingredients to re-create Mettie's recipe exactly but substituted some. See the bottom of this post for tips and variations.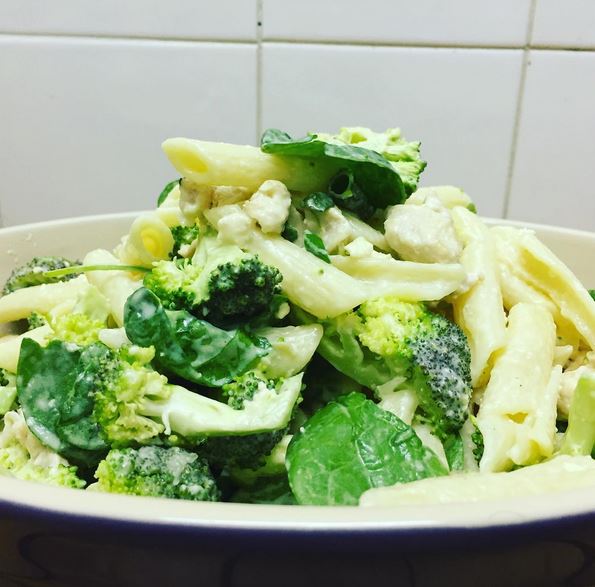 Ingredients:
Cooked penne pasta (make extra if you want lunch the next day or use whole wheat pasta for a healthy alternative)
Baby spinach or Swiss chard
1 head of broccoli, cut into bite sized florets
1 spring onion chopped
1 block of feta, ready to crumble
2 x chicken breasts sliced into bite sized pieces, cooked with salt and freshly ground pepper in a little bit of oil (olive, canola, coconut oil you decide).
Method:
Add all the ingredients into a large mixing bowl.
For the dressing you will need the following:
Olive oil, fresh lemon, salt, pepper, honey, dijon mustard.
My jar of mayo was almost finished so I poured about 120ml of olive oil into it, squeezed the juice of 1 lemon, added 1 heaped tsp of dijon mustard, 1tsp of honey, pinch of salt and freshly ground black pepper. Close the jar and shake till combined. Pour over your salad while still warm and make sure everything is evenly coated. If you want to leave out the mayo add these ingredients to an empty jar and shake.
Tips:
If you are going gluten free, nix the pasta and just eat it as a warm salad OR add some zoodles. I didn't have asparagus or courgettes but you can add any green veggies you like. If you want an Alfredo consistency for the sauce, blend your ingredients with half an avo instead.
Note all the veggies in this recipe are RAW. Do not cook the veggies! I repeat, do not cook the veggies! 
---
---